Jmenuji se Zdeněk Řeháček.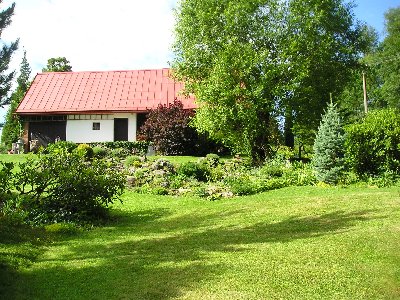 Bydlím v Hradci Králové, ale skalničkařím spolu s manželkou na této chalupě nedaleko České Rybné
u Žamberka.
Kromě skalniček pěstuji i cibuloviny a také vřesovištní rostliny. Nejraději ale mám pravé vysokohorské skalničky a snažím se pěstovat zvláště ty velmi obtížné, ale jen se střídavými úspěchy. Můj nejoblíbenější rod jsou Androsace. Všechny obrázky na tomto webu jsou fotografované mnou nebo manželkou výhradně na naší zahradě.
Jsem členem Klubu skalničkářů Praha.
My name is Zdenek Rehacek.
I live in Czechia (zone 6) in the town of Hradec Kralove, but our garden is at our country cottage (see the picture) near the village of Ceska Rybna in northeast Bohemia.
Besides alpines, I grow also bulbous plants and ericaceous plants. My most favourite plants are however cushion plants from high elevations. I try to grow particularly those more difficult from them but with a partial success only. My most favourite Genera is Androsace. All pictures on this website are photographed by me or by my wife exclusively at our garden.
I am a member of the Prague Rock Garden Club.